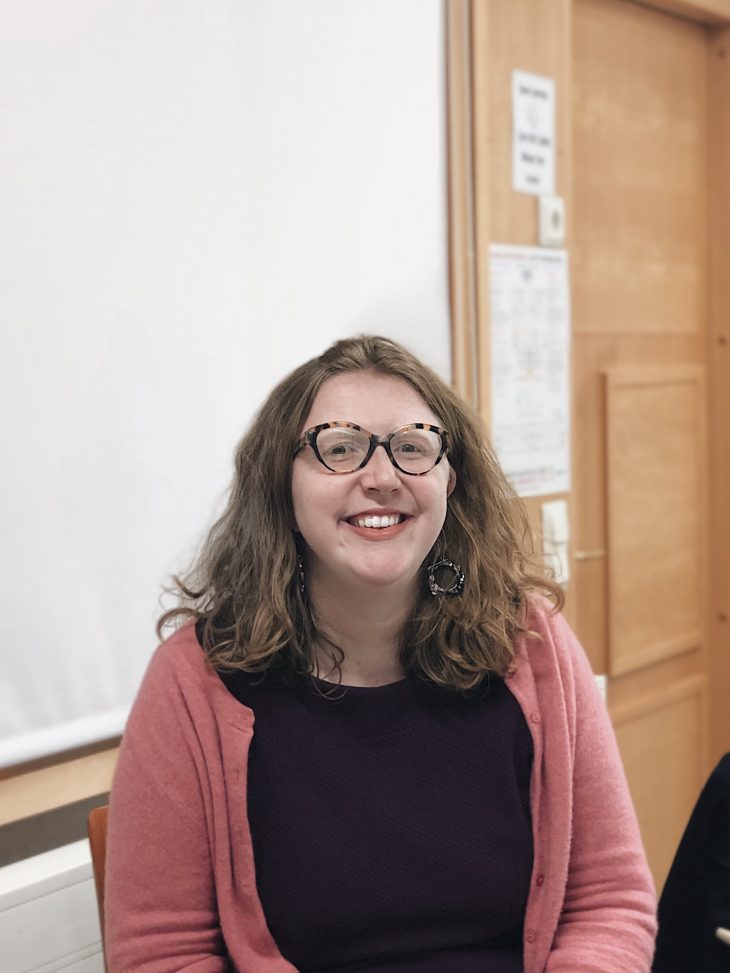 During International Week, we had the honor to welcome foreign lecturers to our university. Then on Friday afternoon, when it was getting dark outside, I had time to sit down and had a great talk with Ms.Kim Waechtler – a guest lecturer from the University of Westen Brittany School, France. She gave me a chance to learn about life, career, success, and passion in the eyes of an original British-German lady.
1, Can you tell us about your personal background?
I moved to Brest, which is in North-Western France on Erasmus 10 years ago, fell in love and decided to move there permanently after finishing my studies in the UK. Then I am a teacher at the University of Western Brittany until now.
2, Which major are you teaching?
I teach Professional English for Business, including English for HR, Finance, Accounting, etc. I am also an International relations Coordinator at the IAE institute. I organize and give students information about Erasmus programs. We also have some partners in China, Canada, and Finland, etc. Then I choose the best applications for the most suitable destinations. For example XAMK, it's one of my best places. *laugh*
3, How many languages do you speak?
I can speak fluently German, English and France. I'd love and always try to learn a few languages of places I go to. For example, I know a little bit of Spanish, Italian, and Thai, etc.
4, What inspired you to become a teacher? Is this your childhood dream?
I think I just couldn't do another job. I really like talking to people, interacting with students, seeing people grow and be creative then I'd love to inspire and motivate them. I do only find myself when I create lessons, projects or things for people to do.
5, What is your most favorite aspect of teaching?
I like setting up projects instead of normal lessons. For example, I have a project in 12 weeks and I give students these problems such as getting to know the company, looking at the data records, indicating what strategies should they apply, etc.. Sometimes I might even don't know the answers. After that, I can spend time with each group, discuss with them, ask them what they need, show them if they follow the right direction and of course correct their English.
6, How do you keep up to date on your subject?
I'm lucky in terms of Accounting because I have an Accounting teacher in the UK. Thus, I can ask her about the on-going problems and interesting questions. I also try to read articles and listen to the Podcasts about Business all the time. And of course, I learn from students a lot as well.
7, How do you motivate your students?
It comes from different areas. Mostly I think, first, you have to be motivated by the project you are giving them. Once students are motivated by what you are doing, it'll be very easy for the topic/projects to be catching. I am also convinced that if you give them something complex to do, it would be more interesting for them than just answering normal English questions. I normally change, update projects and don't use a project twice.
8, Would you like to share about your hobbies?
I have a special hobby – "wine-tasting", which is every French *laugh*. We have about 300 bottles of wine at home. It's really fun and interesting when you look at the wine and wondering: What color is that? Hmm, how does it smell?, etc.. I also like singing, we do "karaoke" sometimes in French. Otherwise, you know, Netflix and chill *laugh*, just like everyone else.
9, You said it was the first time you have been to Finland. So, what is your first impression when you are here?
Well, apart from darkness, I would say Finnish people are extremely kind and friendly. For example, when you ask people on the train in English, they would immediately reply and be willing to help you. It's also amazing when people just leave their coats and walk away. Doesn't it seem weird? *surprise*. Another thing I've noticed is "self-service". It's almost everywhere, which makes me feel like I am living in the future.
10, It's International Week in XAMK, Kouvola Campus. How do you feel? Do you enjoy the activities during this week?  Do you enjoy our activities here?
Absolutely! I would say it was a very nice and amazing experience! The International Food Tasting was so great. I didn't have much time to go around because of another meeting, but I tried some cuisines already and they were excellent! I also had some workshops, which I introduced and discussed some topics with students in XAMK. I was a little bit surprised at first, because all the students were really engaging, giving opinions, active listening and asking questions.
Even though it was only several days, I experienced some Finnish culture and I really love it, for example, sauna. Tonight we are having a small Christmas party with the international teachers in XAMK. It should be fun. *laugh*
11, Do you have a favorite quote which is your life philosophy?
One comes to my mind right now is a saying in German, which basically means "Home is where the heart is."
Thank you so much for your time and I hope you enjoy your time in Finland!
Quynh Anh Vu (Daisy)


Latest posts by Guest Writer
(see all)