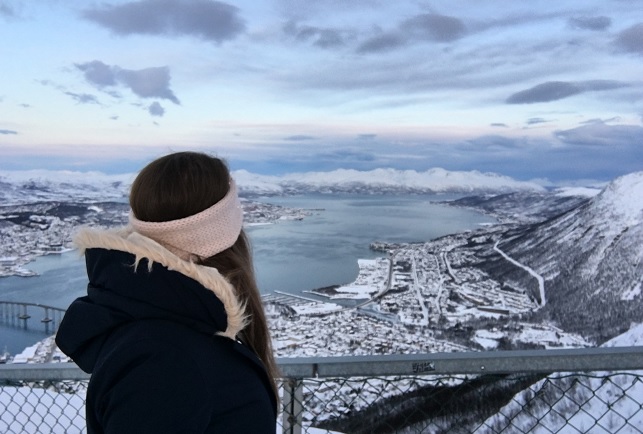 For this week, I chose to travel to Tromsø, a city which is considered to be the most important cultural centre in the North of the arctic circle. Tromsø is located in the North of Norway and is famous for Northern lights and an amazing nature.
I chose the city Tromsø for my Norway trip as many people told me that the capital Oslo is not really worth a visit. However, I wanted to visit Norway once in my life, and therefore I searched for flights.
Direct flights from Helsinki to the North of Norway can be counted on the fingers of one hand, but luckily, Tromsø is one of them. So I booked my flight, although it was not that cheap, and found a hostel which is "affordable" in the city centre.
I landed on Tuesday, 5:00 pm local time (1 hour less than Finland). Afterwards, I took the bus from the airport to the city centre, which costs converted into Euros approximately 10€. I put my stuff in the hostel and chose to walk around the city, even though it was already pitch dark.
On Wednesday, I decided to see the city from above, and therefore I went to the famous Fjellheisen cable car, as I haven't had enough time to hike up there on my own. The cable car is really cheap, compared to Austrian ones, it costs approximately 20€ to go up and down again and they offer student discount. The trip is only 4 minutes and the view up there is absolutely amazing. I was lucky to go there at 11:30 am, because the sun just rose over the city, so I had a beautiful view from up there.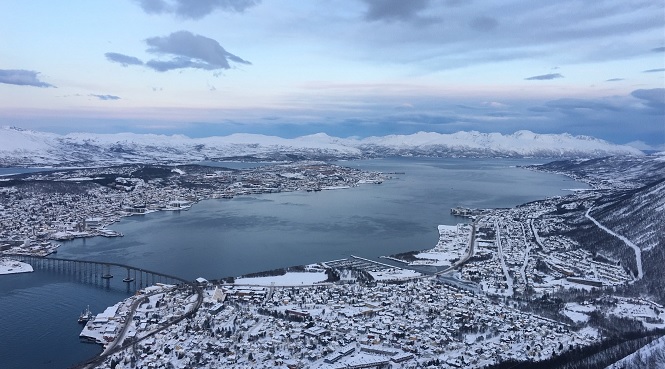 After Fjellheisen, I went to the Polaria museum, which is not only interesting because of its remarkable architecture, but because they call attention to plastic pollution in seas. Furthermore, you can watch seals and other sea dwellers from different prospectives. The museum offers an amazing student discount, instead of paying 145 NOK (~15€), students pay 80 NOK (~8€). When I went out of the museum at 3 pm, it was already pitch dark. I chose to buy some souvenirs and lunch for the evening, before I went back to the hostel.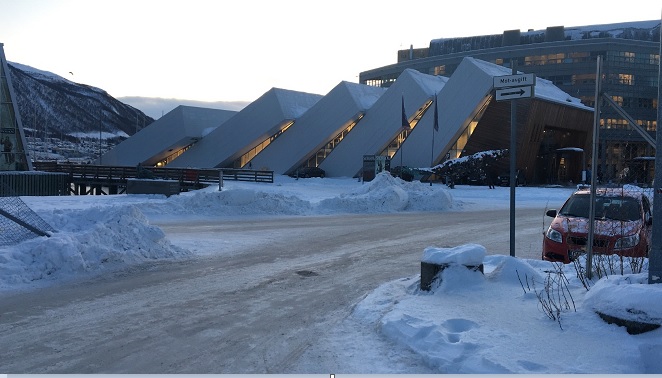 At 5 pm, the most important part of my trip started, the Northern lights chasing tour. I booked this trip in beforehand, because it's nearly impossible to see the Northern lights in the city as there`s simply too much light. As I'm a student, I chose to book the cheapest option: 6-10 hours bus tour from Tromsø for ~95€.
We drove to a place one hour away from the city centre (can't remember the name, sorry). The temperature dropped pretty fast from 0 degrees in the city centre to -10. This is because of the gulf stream, which reaches the city centre, but not the surrounding parts of the city. We finally arrived in the middle of nowhere, put on our warmest clothes and stepped outside of the bus.
And finally, Northern lights! After searching for them unsuccessfully for one week in Iceland three years ago, I finally saw them. Even though it was incredible cold, it was just an amazing experience to see what nature has to offer.
After approximately 1 hour, the guides decided to go to a warmer place – Laksvatn.
On our journey there, they told us a lot of interesting things about Fjords, the nature and the phenomena Aurora borealis itself.
When we arrived in Laksvatn, "Lady Aurora", how they also call the Northern lights, showed herself in a more beautiful way than I could have ever imagined. The sky lighted up in bright green and the lights even started to dance. As the green light reflected itself in the Fjord, the guides lighted up a bonfire and served hot chocolate with cookies.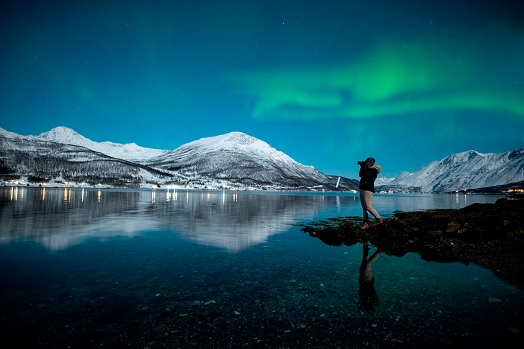 At 2 am, we came back to the city centre where I happily went to bed.
Already on the next day, at 11 am, I sadly had to leave this beautiful city to go back to Finland. But even if it´s only been two nights, I highly recommend Tromsø for your next trip. A stunning nature, many student discount offers and Northern lights – a perfect journey to forget about the stress in university.

Latest posts by Guest Writer
(see all)