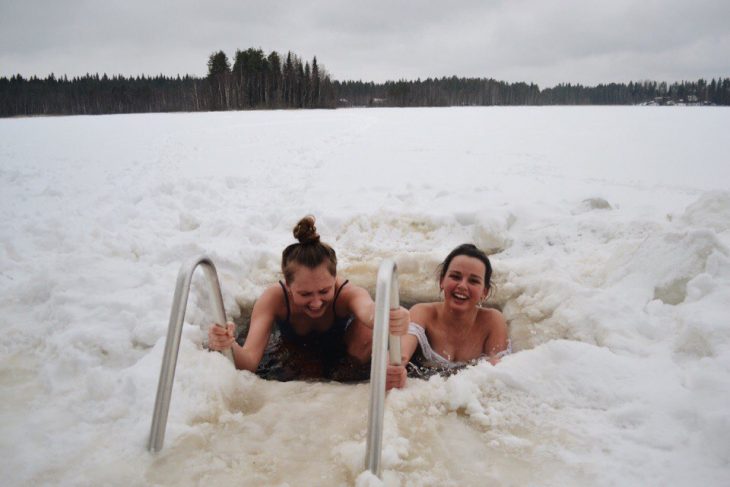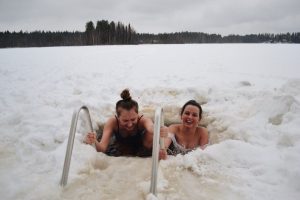 There are many things you need to do while living in Finland: see the snow (for many months, yup, but the first time is always special), drink some Finnish specialities (like glögi but not only), eat salmon, try mämmi and go to the sauna, of course. Moreover, the last one may often be combined with… jumping into the lake! Whether it's summer or winter, many citizens, residents and tourists like swimming right after the hot sauna time.
Exchange students from Mikkeli campus together with their tutors weren't an exception. Who wouldn't like to feel something totally crazy and different from the things you do in your own country? The first weekend of March courageous youngsters spent in a cottage trip not that far from Mikkeli and the main entertainment was exactly sauna with the chance to jump right into the frozen lake. However, some people chose jumping into the snow, which doesn't make it warmer.
Why doing that? A cutting change of temperatures is definitely shocking for your body if you have never done it before. However, it is quite helpful and healthy for your immunity. Obviously, to strengthen it seriously you need to do it continuously, long-term and not just once in your lifetime. Anyway, for the beginning, one time is enough. Checkpoint with 'jump into the lake after sauna' is completed!
During the cottage trip our exchanges not only improved their health and fulfilled their Finnish life experiences but also got to know each other better. Tutors prepared loads of funny games for teambuilding and breaking the ice among the students. Snacks were great as well, by the way! Moreover, people enjoyed barbeque part as well. Yup, that's right, grilling right next to the lake in the snowy nature. Barbeque, sauna, swimming, games, talks… What a fun day it was! Hopefully, everyone enjoyed that time as much as it was possible! What I know for sure, pictures are amazing, the sauna was hot and people were screaming and laughing in the lake at the same time.
To jump into the frozen lake, you need to have a lot of courage. Our exchange students and their tutors proved that even the craziest things are not that insane. Do everything you could never imagine yourself doing while you are bold, young and wild! Live your life at its fullest. To jump into the cold lake directly form the hot 80 degrees' sauna in Finland – done!
Latest posts by Alisa Kivirian (see all)