Under the Tuscan Sun – an Academic Visit
Vol. 25, Issue 02, 16 September 2022
'The IMP Conference is the largest in the world dealing specifically with marketing, purchasing and technological development in a business-to-business context.'
The above mentioned statement is by the IMP Group, when they want to clarify the significance and purpose of their contribution to the scientific world. IMP is a network of scholars, and the group has diverse activities such as annual conferences. The annual conferences they have are quite typical regarding the arrangements: in addition to keynote speakers representing firms, there are parallel sessions with their own sub-themes. During the conference, peer discussions – whether formal or informal – provide an opportunity for interaction and networking – the themes that provide a basis for the theoretical discussions, too.
At the end of August, I had an opportunity to attend to their annual conference, which was held in Florence Italy. I wrote an article, which was accepted to be presented in the conference. The content of my study was based on analysing the diverse sides of the responsibility. In modern business jargon the positive sides of sustainability are usually in focus, but the other side – including unethical and irresponsible behaviour and even moral disengagement – is often overlooked. In my paper, theoretical articulation on conceptual dualism was added with some empirical evidence. The conclusion of my paper was that to support the ongoing discussion on values, universal ethics as a moral philosophical framework might provide a basis for discussing and tackling responsibility- related issues more deeply. The common values as guidelines for achieving peaceful co-existence, and harmony are more important than probably ever before. The fractured world of today requires common ethics.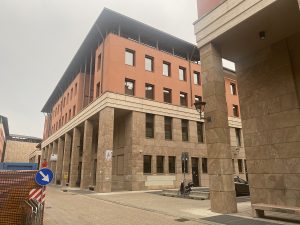 The major organizer of the conference was Università degli studi Firenze (UniFi and its department Dipartimento di Scienze per l'Economia e l'Impresa), which is one of the oldest universities in the Europe founded as early as 1321. University is famous for some of its alumnae such as Boccaccio, who lectured on Divina Commedia. Bocaccio is the Florentine, who wrote Decameron, which is widely known novel, though many people – including me as well – have never read the book. Even Leonardo da Vinci can be regarded as an alumni as well as he did some experimental medical investigations at the premises of the university. It would be nice to think about this when walking on the floors of the university building: to follow the footsteps of the famous painter would be pleasant. To be honest, the campus area, in which the conference was held, is totally new. Hence, any mental connection to Boccaccio, or to da Vinci or to medieval times is rather a result of one's own imagination than reality.
Florence itself is a cradle of renaissance, in which art and culture were – and are still – deeply interconnected. Famous artists such as Botticelli, da Vinci,  Ghirlandaio, Michelangelo, Lippi and many others are well-known across the world. In addition to art, renaissance as a time period was also a trigger for economical and social development, too. Later industrial and technological revolutions owe much to renaissance and therefore to Florence as well. The Medici family that once ruled the territory of Tuscany was keen on supporting artists, but they also understood the significance of commercial activities and trade in increasing prosperity – both their own and the others, too. In the development process no one can deny the crucial role of Italian universities – such as the University of Pisa for which UniFI was once integrated – in creating new rational- based knowledge. All this changed our understanding of the world – not radically but rather gradually. Medieval times in Florence with all those intentions to see the world in a different way, were critical – not just for Europe – but taking also the current global trade into consideration. There cannot be any substantial transformation without openness, and curiosity towards the new ideas. Explicitly, this requires new ways to express the reality – whether in pieces of art, or in science. UniFI as an educational institution was a center of renaissance humanism, and the grand story of Florence exemplifies the role of human tolerance in a remarkable way.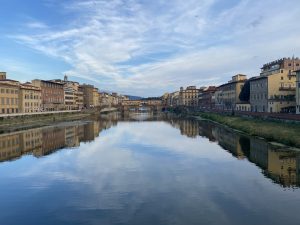 From a single visitor's point of view, in Florence there are lots of interesting spots for tourists and therefore it is quite a difficult to rank them objectively. In my view, the Uffizi gallery is the most important and interesting one as there is a wide a collection of paintings – some of them such as Botticelli's Primavera are truly a masterpieces. One needs to have lot of time to go through the museum. You are never alone due to great number other tourists. Another hotspot is Museum of San Marco. In addition to Fra Angelico's famous works, there is also a library hall, which is actually one of the oldest in Europe. Libraries have an essential role in society as they enable us to have access knowledge – then and now.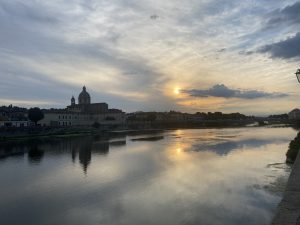 What about the food? Are the culinary interests and gastronomy examples of the artistic grasp among Tuscan people? In Tuscany like in other parts of Italy as well, locality and local ingredients are highly appreciated. If you want to prepare something very delicious and simple but you don't have much time test this. To make Insalata Caprese take some mellow and juicy tomatoes, fresh basilica, and mozzarella (preferably Bufala). Slice all ingredients and put them aesthetically to your and/or to your friend's plate. Add some virgin olive oil, some salt, and black pepper. This definitely works. I tested this portion in a restaurant as an antipasto, and I really liked it.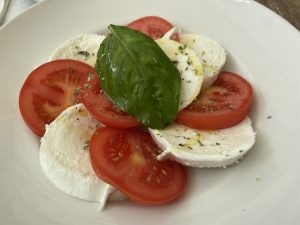 Personally, Florence was a culmination point in my career as it was my last chance to attend a conference. In addition, it was my last professional duty. It all started at IMP in Lugano Switzerland in 2003, and it ended in Firenze 2022. While I was in Lugano, I had accommodation in Milano. Surprisingly, Italia is the bridge between these two points. Maybe I need to continue Italian language studies .…
Ciao!
P.S. If you want to have some dolce in Florence, visit Gelateria La Carraia to get perfect Italian gelato. It's close to the Ponte alla Carraia- bridge, and you can't miss it as there is always a long queue.
Dr Markku Nikkanen,
Principal Lecturer, Xamk

Latest posts by Guest Writer
(see all)