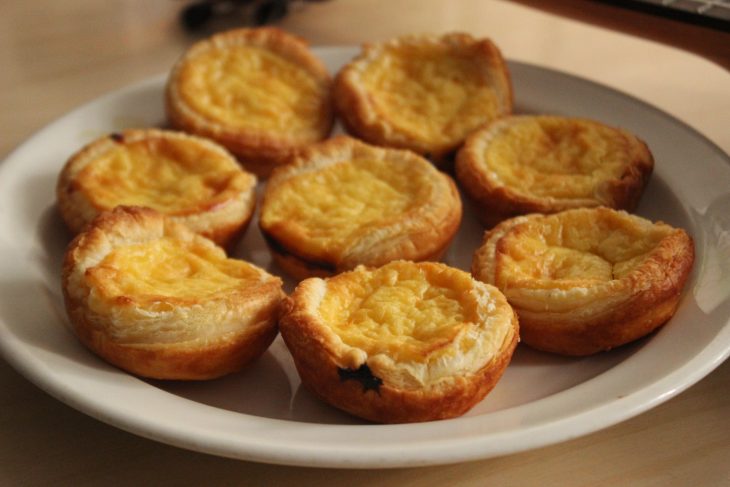 Hi! It has been a while since my last recipe. I am back with a pastry dish for you lovelies with a sweet tooth. It is the Portuguese-styled egg tart, with a flaky, buttery crust and a silky, creamy filling that can blissfully satisfy your craving. The procedure is a bit tricky, but since the recipe requires all basic ingredients, the outcome will be assuredly scrumptious if being done right.
Note: I used store-bought puff pastry since it is less time-consuming and works better than the puff pastry I have made from scratch in the past.
Ingredients:
1 roll of puff pastry
½ cup white sugar
3 egg yolks
1 cup milk
½ cup water
¼ cup flour
Instructions:
Preheat the oven to 260 degrees.
Combine the sugar and water in a saucepan over high heat. Cook for 1 minute until the sugar dissolved then remove from the heat and let it chill.
In a smaller saucepan, pour in 2/3 of the milk and bring it to a boil till bubbles start to form.
Whisk in the flour and the remaining amount of the milk in a bowl. Slowly add the hot milk while still whisking.
Pour the sugar syrup in a steady stream into the milk and flour mixture. Add it back to the saucepan and continue cooking over low heat for 10 – 12 minutes till the mixture thickened. Let it chill for at least 5 minutes.
Add the egg yolks into the chilled mixture. It is very important to let it cool down before mixing the yolks in because if it is still hot, we will end up with scrambled eggs.
Strain the mixture using a sieve. Cut the puff pastry into circles which are roughly 2x bigger than the molds. Pour the mixture in, filling up to about ¾ of the shells.
Bake the tarts for around 15 minutes or until they are golden brown and flaky looking. The filling should have a smooth golden color.
Once done baking, transfer the tarts onto a rack and let them cool for at least 5 minutes before serving.
And that is how you make these delicious treats. See you again next time with more recipes!

International Business student at XAMK