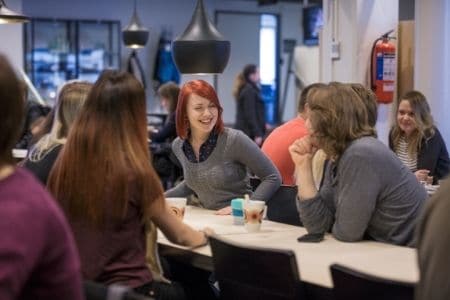 What Makes A Great Leader
Last week I wrote about people skills in studies and working life. While writing that article, I started to think about all the team members and especially the team leaders, bosses and managers that I have had the pleasure and "the pleasure" of working with.
As you, too, might have already noticed in working life, being a good leader is certainly not easy. A good leader needs to have great people skills but also be analytical enough to see the big picture and maintain control over projects at hand.
Personally, I have found that the best way to understand the qualities of a good leader is to have worked under really bad leaders. At the very beginning of my career, I didn't really pay that much attention to leading styles of different managers, but through experience my understanding of the importance of leadership began to build.
Good leadership is made up of many different factors – and it depends a lot on the work community itself and its needs, of course. A good leader is many times described as someone who needs vision and passion. Today, people are looking for empathy in their leaders as well.
So what are the most important qualities of a good leader and what kind of skills do great leaders need in the future?
Characteristics of a good leader
Listens actively
Has trust on others and knows how to delegate
Respects others
Allows you to take risks and try new solutions
Is confident about making informed decisions
Is fair and transparent
Questions and challenges rules, tries to avoid them becoming fixed patterns.
In my experience, good leadership is defined by people in many different ways, and different skills may be required of leaders in various industries and organizations. At the same time, however, most of us (at least after having more work experience) recognise a good leader when we see one. So there must be some universal qualities that good leaders generally possess, then? 
I selected seven important qualities and traits below. Do you find these leadership qualities in yourself or do you disagree with my list of the top traits? Comment and share your thoughts!
1. Ability to delegate
If you become overwhelmed, the quality of your work is likely to suffer. The ability to delegate tasks to others is therefore one of the most important qualities of a manager. A good leader knows that the best results are achieved by utilizing everyone's competencies.
The importance of this in good leadership became clear to me on a project where I was originally recommended by an employee of this one company. The owner of the company had only heard references about me, but was not at all interested in discussing my skills and competencies before I actually started in the job.
The end result was a situation where the owner, for some reason, thought that I had no skills and no previous experience in certain tasks. I tried to tell him that I know these things and have worked with them earlier, but he failed to listen. Soon this led to him being a very aggressive micromanager and I was not being given any relevant tasks in the company.
2. Honesty
In a way, employees are a reflection of the management of the company. It is the manager's responsibility to set the standard for integrity and work ethic in the workplace. If the leader is not admitting their mistakes when those occur, or the leader tends to sweep things under the carpet, why would their employees do things differently? Leaders set the bar.
I myself worked a couple of years ago with a manager who for instance lied about doing things he hadn't done and put me in a situation where I had to constantly lie for him. This reduced my motivation and caused me a lot of stress.
I felt that I was in a terrible situation where I could not reveal to the other team members that they were being lied to. I was also starting to question the entire integrity of the workplace: what if all the others are here the same, what if I am now becoming the same as well?
3. Good communication skills
Based on my experiences in various positions in many different fields over the years, it is important for a leader to communicate all the objectives and policies in a clear, consistent way. After all, clear communication makes the work more effective and reduces the risk of misunderstandings. A clear vision that everyone is aware of (and understands) inspires work. This is then reflected in results. 
Without a clear vision, the manager also has a bigger risk of ending up micromanaging, which, at least in my experience, is one of the worst things to do for the employee. I've worked with many managers that didn't have a clear vision of what we were doing, who we were doing it for and why. The work felt quite chaotic from one task to the next, there was a lot of micromanaging, and these things too, had negative impacts on my motivation.
4. Commitment
Good leaders expect motivated and hard work from both their team members and themselves. In fact, at least to me, one of the best ways to motivate employees is through the commitment and hard work seen done by the boss. By showing commitment, leaders not only gain respect, but also spread enthusiasm for work.
My biggest client at the moment is a perfect example for this part in particular. The company is quite large, but all the managers at all levels are motivated, inspiring and very much involved. They work together with teams and don't support the old, hierarchical approach to leadership. They are committed and they have a very hands-on approach to tasks. But this does not diminish their authority or the respect and appreciation I have for them, for example – quite the opposite in fact.
5. Positivity, a sense of humour and the ability to inspire
When goals are not fully met and stress levels in the workplace start to rise, it's easy for personal relationships within workplaces to start taking a hit. Humour is a tool that leaders can use to encourage employees and by that, promote a good working atmosphere. Even adversity can be turned into motivation through positive energy – keeping in mind realism of course.
On the other hand, as we know, a sense of humour is not the same for everyone. What one person thinks is hilarious may be quite offensive to another. Personally, I would say that the closer the work community is and the better the leaders know their team, the more important the use of humour becomes. But in new situations and in new teams, humour should be used with care, just in case.
Inspiring team members is a vital skill if a leader wants the company to achieve its goals. A good leader inspires employees with a shared vision towards which they can strive. Successful leaders also motivate their employees by recognising their contributions and achievements.
One of the worst cases I've had was when I was working in Malta, in a large affiliate marketing company. There were 11 teams for different markets and each team had 4-6 content writers in them. I was a very fast writer and could produce more content than any other writer at the time, but this was never recognized publicly. I wouldn't have minded that otherwise, but whenever a content writer from an English or Norwegian team for instance, managed to deliver a lot of content in a certain day, this was highlighted and praised in our department.
Managers were praising the writers and asking for others to congratulate them, too. I guess they had already used to me delivering 1,5-2 times more content on a regular basis and that's why I never got recognition but since I never had received any positive feedback even from my closest manager, this really started to have a negative impact on my motivation and performance. Needless to say, I didn't stay in that company for a long time.
6. Empathy
While a senior manager, for example, may not know the exact job duties of all his or her team members and might not have a clear picture of the problems at work, a great leader needs to be empathetic. Empathy can be enhanced by having conversations and asking how people are really doing at work. So listening skills and most importantly, active listening skills, are much more important than talking.
When it comes to empathy, I have two examples. First one is about a manager that knew my situation as a single parent for a then 5-year-old. My kid got sick and I told the manager I would be able to do some work but not deliver my 100 % when I need to be taking care of my child and obviously, would not invoice my normal fees since I am not able to work full hours. The manager ignored this completely and was harassing me constantly, expecting me to be available the same as usual and was complaining when I wasn't doing everything he wanted at that instant that he wanted it to be done.
Needless to say, I didn't stay with this customer for long.
Another example is the complete opposite. When I was making the current deal with my biggest client, I went quickly close to tears. We had already negotiated the fee and the terms of the contract and I was more than happy with everything. Before signing the contract, the manager wanted to have a short call with me to go over every part of the contract once more. During that call the manager said that because he knows I am a single parent, he has added 20 paid vacation days to the contract. "Your child needs to have quality time with mommy". I think this speaks volumes about the manager and the company culture.
Leadership in different levels in business
There are also many levels of leadership in business. In other words, you don't have to be a CEO, a manager or even a team leader to be needing these skills. They are needed by every employee and therefore, everyone benefits from having and practicing leadership skills.
As an entrepreneur, I need to have leadership skills when working with different teams in various projects. I also need to have good self-management skills, but that is a topic for another time.
Future leaders
The most important characteristic of the future leader, according to most that I've talked about this, will be flexibility. Other important qualities that I've noticed people talking more and more about, are empathy and humanity.
Even though many businesses are more and more data driven, the importance of great leadership skills, especially the ones that are really about taking people and their individual skills into account, is increasingly important.
How to develop yourself as a leader
As said, we all need leadership skills, no matter what our position in the company or team is. When you are in the lead, listen to the needs of your team or organization. Find out the skills and talents of each member, be interested in their preferences and listen to them actively.
Asking for feedback from yourself is the best way to assess your own performance. Even though you might not like every feedback that you get, it's the only way to make sure how your working practices are coming across and where you need improvement.
By investing in a good working culture, you will create a more innovative and productive working environment, be it a short- or long-term project.
Images for this article are from Xamk's image bank.
Latest posts by Suvi Karell
(see all)