Public transport system in Helsinki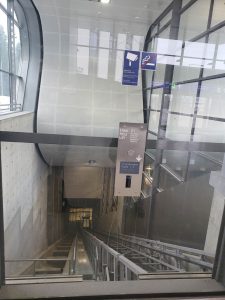 Vol 25, Issue 23 14 April 2023
According to Benchmarking in European Service of Public Transport, Helsinki's public transport system is ranked 2nd among neighboring European countries for satisfaction. I had a memorable experience on a trip from Kouvola to Reima company in Vantaa. I feel the convenience and modernity of this public system.
Convenience starts with buying train tickets online. I have the convenience of choosing the train time, the form of buying regular or special tickets. Online payment is also very fast. My ticket purchase was completed in about 3 minutes. In addition to the above features, Helsinki's transportation system is also known for its accessibility. The buses and trams are designed to accommodate passengers with disabilities. The trams have low floors, and the buses are equipped with wheelchair ramps. The HSL also provides a service for passengers with reduced mobility, which allows them to book a ride in advance.
When I boarded the train, I saw a clean space, clean seats. The train also arranges tables of four people so that family and friends can sit together. The table can be extended, convenient for eating or working. At the seats, charging outlets are always available. An ideal space for listening to music, entertainment, working in your free time on board. Ticket inspectors usually go to check tickets about 5 minutes after departure. This control is to ensure that passengers who have purchased their tickets in full, sit in the correct position of their ticket type. If passengers do not buy a ticket when using the service, a fine of 80 euros will be charged.
The subway system is also very convenient. The route leads to most of the main points of areas A, B, C of Helsinki. The trains are only 5 to 10 minutes apart. Residents of Helsinki or tourists from elsewhere easily move between locations. The bus system connecting the stations of the subway is also very flexible in terms of time.
In particular, when I arrived at the Aviapolis station, I was impressed with the depth of the metro above the ground. The elevator system leading up is also very convenient. The elevator system includes an escalator system and an elevator. Due to that particular weakness, the elevator system here moves inclined along the escalator system.
The development of the public transport system in Helsinki is one of the factors driving the development of the economy in Helsinki. The economic and political capital of Finland. A country in the European Union. The 31st member of the EU military alliance.
Latest posts by Phuong Pham
(see all)