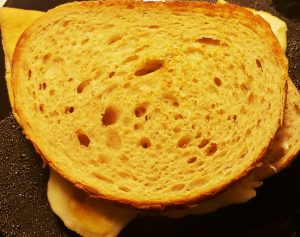 Vol 25, Issue 07, 04 November 2022
We want to start an effective learning day, we need to provide enough energy to your body. Our physical body needs to provide on average 400-500 calories in the morning. Can a breakfast that is both affordable for students and nutritious and energetic for an effective morning of study possible?
Let's refer to the 1-euro breakfast menu with the nutritional and energy information provided to the body. That is a cheese egg sandwich.
Ingredients:
114 calories of Cheddar Cheese, (1 slice (1 oz))

94 calories of Egg, fresh, whole, raw, (1 jumbo)

26 calories of Red Ripe Tomatoes, (1 medium whole (2-3/5″ dia))
175 calories of Sandwich (2 slices)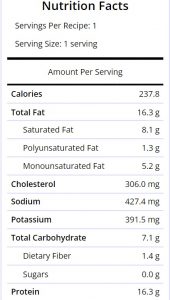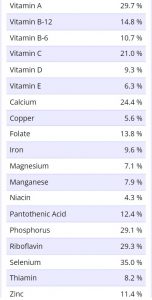 It only takes us about 5 minutes to finish breakfast for two persons.
Step 1: Toast the bread on low heat on a nonstick pan to keep it crispy or use a toaster.
Step 2: Fry the scrambled egg mixture, and sprinkle with cheese
Step 3: Flip the sides so that the eggs are cooked evenly, the cheese is hot and melted
Step 4: Put cheese, egg, and tomato sandwiched slices of sandwich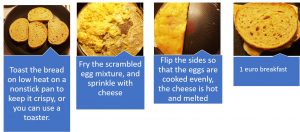 The cost of this menu
| | |
| --- | --- |
| 2 slices of bread 30gam (Graham brand) | 30 cent |
| 1 egg 50gam (Vanpaa brand) | 25 cent |
| Two slices of tomatoes or greens (bought at Lidl) | 40 cent |
| 1 slice of 50gam cheese (Valio brand – type 1 kg) | 30 cent |
The total cost is about 1 euro 25 cents. Surely, the cost will go down if we do this breakfast for several people at the same time. Therefore, we can cooperate with our housemates to make a breakfast nutritious and energetic, fast and economical. We do a simple calculation. By saving 1 euro per morning with the wisdom methods, we can save 365 euros for a year. With this money, we can pay for two months' rental. This an economic problem that we need to consider implementing.  
Latest posts by Phuong Pham
(see all)