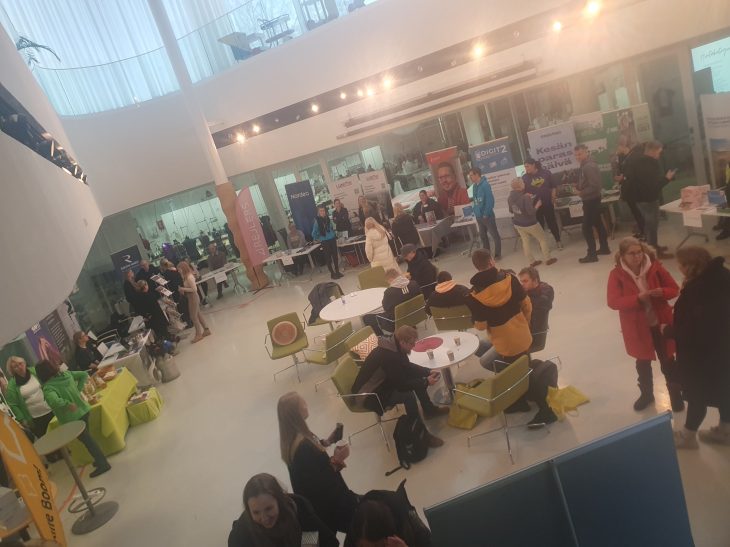 Vol.25 Issue 14, 27 January 2023
The annual Worklife Boom event was again organized by Xamk University on the 19th of January 2023 at below Paja, Kouvola. The participants in this event with a work-life theme included Businesses, Students, Employees of Xamk, and Xamk graduates. Finnish and English languages were used throughout the event. More than 10 companies showed up for the job positions.
I went to all the vendor booths with my friends. We first started the business name ANDRITZ Oy. During our conversation with the team leaders of ANDRITZ Oy, we heard more about their business. ANDRITZ Oy is a well-known provider of systems, tools, and services for the pulp and paper sectors, including wood processing, fiber processing, chemical recovery, and stock preparation for pulp and papers. Additionally, ANDRITZ Oy provides gasification facilities and biomass boilers for the production of energy. The corporate office is in Helsinki. The Tampere-based business ANDRITZ Oy provides systems, gear, and services for the production of hydraulic power. With 1600 employees spread among its centers of excellence in Kotka, Lahti, Oulu, Kerava, Tampere, Vanta, and Savonlinna.
Then we visited S Groups. With more than 1900 locations throughout Finland, the S group is a customer-owned network of businesses in the retail and service industries. The S group operates in Estonia's tourism and hospitality industries also. In Finland, they provide services for grocery stores, service stations and gasoline sales, the travel and accommodation industry, and the hardware industry. In addition, some of their cooperatives have agricultural and auto businesses in their local areas. Through S Banks, they offer complete financial services to every cooperate member.
Then we visited the UPM Biofore company, where we discovered it to be Finnish cooperation in the forest industry. Then the LUMON team leader revealed that LUMON is a worldwide company with headquarters in Finland that specializes in the marketing, manufacturing, and installation of balcony and terrace glazing solutions. Today, they have 20 different nations receive a third of the exports of balcony glazing systems. Canada, Switzerland, Germany, Spain, Sweden, and Norway are the top exporting nations followed. There were also business representatives from Nokia, Nordea, and AFRY. Their team leaders also gave us an explanation of their jobs.
In the end, we went to a booth and were given the opportunity to spin a wheel. We were ecstatic to feel the motion, then I tried first, spinning the wheel and I received a super deal in that which was a water bottle, I was overjoyed when they offered me a token of love as a gift of a water bottle. My buddies then gave it a shot, and they received small and medium-sized gifts from them. After that all of the business booths eventually provided us with links to their job postings, so we could apply for our summer jobs. Also, every business booth provided us with bags, pens, pencils, diaries, and other stuff bearing the names and logos of their organizations. I had a great time at the Worklife Boom event. I had my second experience in Kouvola looking around the trade stands.
Thank you, Readers.
Amandeep Kaur Brar
DIB2k22

Latest posts by Amandeep Brar
(see all)